MITESOL invites you to our annual conference on Saturday, November 12, 2022, to be held at Washtenaw Community College.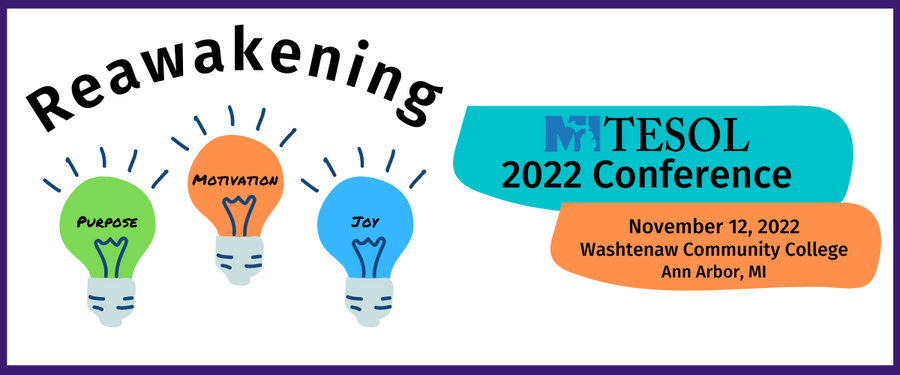 The theme of this year's conference is Reawakening Purpose, Motivation, and Joy. This theme reflects the need to acknowledge that many of us find ourselves reinventing, or reimagining, our purpose as educators and individuals.
Join colleagues from across Michigan (and beyond!) for discussion and learning on how those of us in the field have rediscovered ways to motivate ourselves, each other, and the students we serve.
---
This year's conference will include:
Keynote Speaker Dr. Paul Kei Matsuda
Plenary Speaker Wessam Abdelaziz
Invited Speakers from the Michigan Department of Education, the Michigan Adult, Community & Alternative Education Association, the Michigan ESL Professional Advisory Committee, and the Michigan Immigrant Rights Center
Renowned Publishers, Companies, and Agencies in the field
40+ Concurrent Sessions with workshops, standard sessions, roundtable discussions, and poster presentations
Raffle Prizes
Up to 6.25 SCECHs per attendee
 

 

 

 




 

 




 

 
---
Pricing Information
Early Bird Registration Rates
(register by Monday, October 10, at 11:59PM EDT)
Standard Registration Rates
(register on or after Tuesday, October 11)
*For non-members and renewing members, the registration fee includes a 1-year membership from purchase date.